With three major book sales happening simultaneously in February, this month really tested my discipline and self-control both as a reader and as a college student on a budget. And I'm sure a lot of Filipino readers in the Metro Manila area can relate to the struggle of resisting the temptation* to bleep it and run into these sales with our eyes hungry (for books!), our little reader hearts bursting with excitement, and our protesting wallets fully open.
Personally, I was overwhelmed by the grandeur and wonderful chaos of it all. As I type this blog post, my Twitter feed still features book haul photos from these sales and posts decorated with relevant hashtags, namely, #NBSsale (for the huge book blowout in National Bookstore's Cubao Superbranch), #PBClearanceSale (for the Powerbooks clearance sale aka another NBS sale in disguise), and #BigBadWolfBooksPH (for the massive 24/7 book sale by Big Bad Wolf Books). Likewise, other Filipino book bloggers have shared their experiences. Kyra and Nikki @ Book Allure and Erica @ Living a Hundred Lives have both recounted their trips to the BBW sale. Meanwhile, Ella @ The Bookish Goddess attended all three (we stan a book sale queen!).
Eventually, I gave in and charged into these book sales like the warrior queens** of old. For the first time. Yep, you read that correctly, friends.
I confess that the title of this post is a bit misleading. In reality, my experience from the still ongoing book blowout, courtesy of National Book Store, was my first venture into the delightfully sinful world of book sales and book bargains. Contrary to popular belief, I am not really into book hauls for reasons I'm still too sleepy to enumerate. BUT!!! In my defense, my first time at a book sale was, in my very humble opinion, successful and glorious.
Nonetheless, despite my obvious lack of expertise in this area, I hope I'm able to write something relatively meaningful, if not helpful. If anything, this post will feature a lot of poorly taken photos of books, which will give you an idea of the sale's selection of discounted titles (yay, it's something!).
It's been another deadline-filled week, and I am the semi- living embodiment of exhaustion. However, with today being the last day of National Bookstore's Cubao Book Blowout, I really cannot afford to delay this post any longer. Let's get to it!
* We can't all have the iron-clad willpower of Kate who, in her infinite wisdom and powerful ✨ enabler ✨ sorcery, convinced me to revisit the sale for the second time.
** Henrietta Valia, fierce matriarch of the Valia Kindred, would be mildly impressed with me, I think.

BACKSTORY & OTHER SENSELESS BABBLING
February 24, Sunday. Dragging my non-reader college friend with me, the initial itinerary was: Powerbooks Trinoma, National Bookstore (NBS) Superbranch Cubao, and finally, Powerbooks Megamall. These venues were all easily accessible as they're found along MRT stations. We opted against visiting the Big Bad Wolf sale because it's really far, especially when compared to the venues of the other book sales.

My barely full basket at the Powerbooks clearance sale (Trinoma branch)
Our trip eventually became an expectations vs. reality type of thing. Personally, our first stop — that is, a visit to Powerbooks Trinoma — sort of disappointed me. The books were not marked with discount tags, which made it very difficult to know which titles were on sale and how big (or small) the discounts were. They had to be physically brought to the cashier person to be scanned, just to check if they're included in the sale. In other words, it was a hassle, and to top it all off, I was unimpressed with the fact that I only managed to fill up one basket with books (roughly 12 to 15 titles).
Gut instinct told me that I'd find better deals in our next destination, the NBS Book Blowout in Cubao. Consequently, we put back our finds and braved the MRT once more (a loving shoutout to the Philippine public transportation system: you're awful and I hate commuting because of you).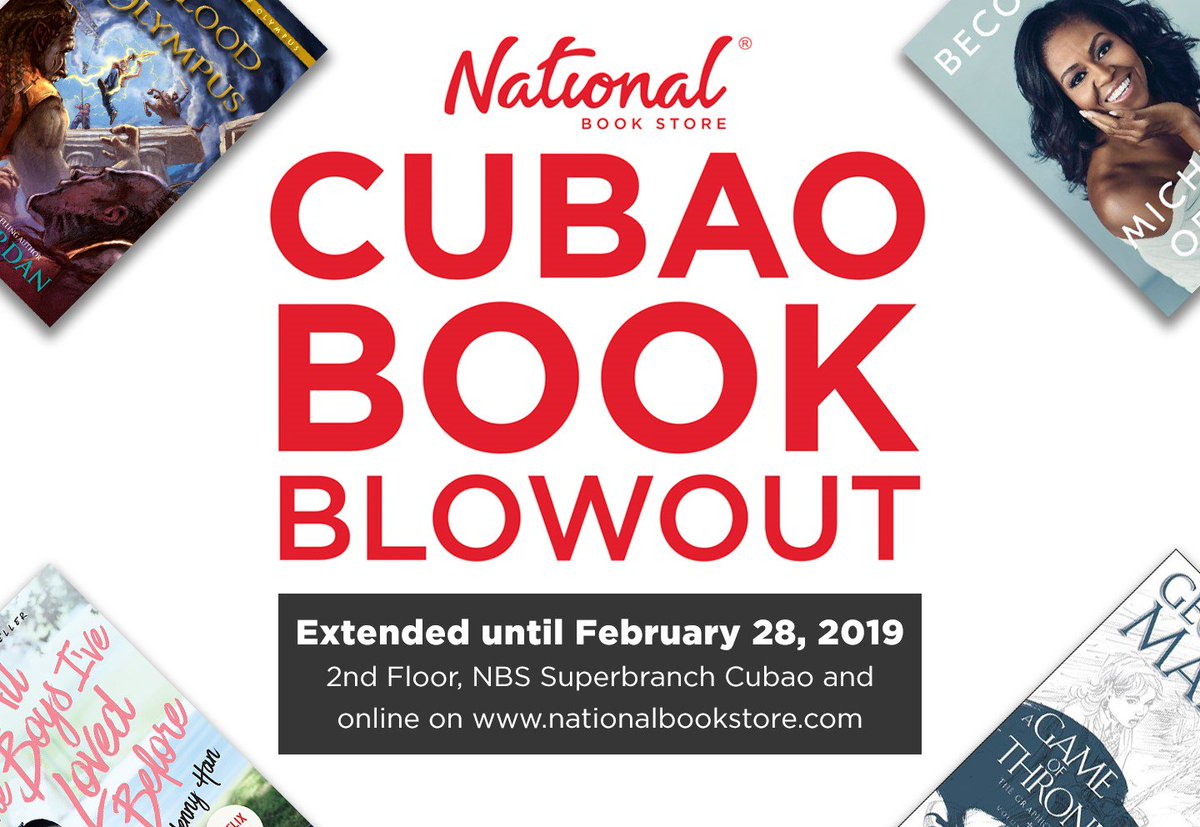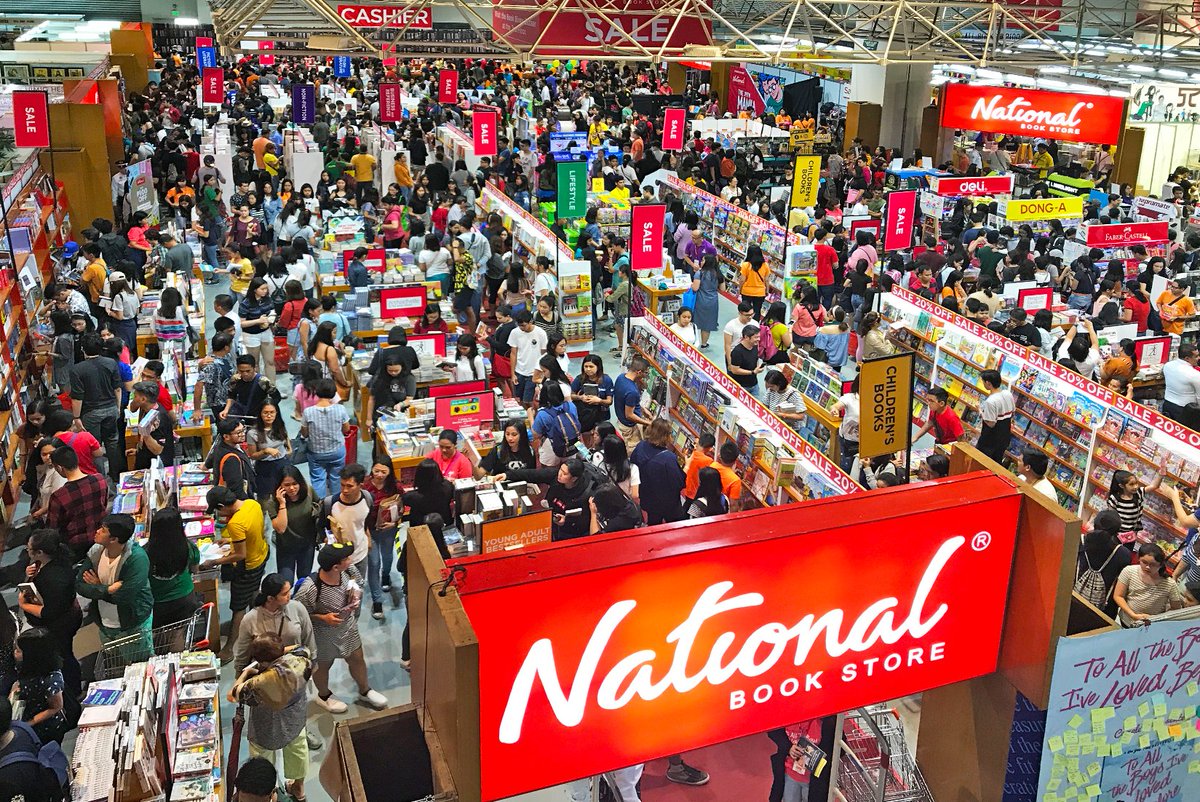 Photo and poster both taken from their Twitter account (@nbsalerts).
I am very happy to report that the NBS sale really exceeded my expectations, which manifests in the current grieving state of my wallet (note: I stayed within my alloted budget, but as a perpetually broke college student, it still hurts my soul!).
My friend and I stayed inside the store for three whole hours — majority of which was spent with me narrowing down my picks into a manageable, budget-friendly pile (Vernice, thank you for your endless patience with me!). It was tough because I already had an initial haul* of three books.
* Before it was announceed that the NBS sale was going to be extended until the end of February, I availed the service of some virtual stranger who was offering to "shop" for people and to ship the books to them the next day — apparently, some people call this pasabuy. This was also a first time on my part.

While I am thankful that some books on my wishlist (i.e. Empress of a Thousand Skies, Our Dark Duet, Bright We Burn) were quickly secured thanks to the pasabuy, having someone else buy the titles for me is not nearly as satisfying as going to the sale and finding books on my wishlist myself. Experience is really something else.
ELIMINATION PROCESS
In contrast to my brief experience in the Powerbooks clearance sale, I managed to fill up four baskets' worth of books(!!!). Which means that I initially picked up more or less 80 books. I'm not even kidding.

Here we find an extremely overjoyed Shealea thriving in her natural habitat.
To be fair, the essence of my strategy was to pick up whatever's familiar or interesting to me, check out the discount, and if it's either 60% or 80% off, throw it in the cart. More simply: get whatever, select later.
On the other hand, my elimination process was arguably a lot more systematic and methodological. It consisted of three stages, namely, (1) first wave elimination, (2) elimination by pile, and (3) bargaining with the maybes. Being the wonderfully extra person that I am, I made sure to document everything! Having said that, let's take a look at the 70-ish books I chose to let go.
Eliminated 10 books:
A Torch Against the Night | Forest of a Thousand Lanterns | Kingdom of the Blazing Phoenix | Bright We Burn | Tempests and Slaughter | Star-Touched Stories | They Both Die at the End | Reign of the Fallen | The Weight of Feathers | The Heart Forger
Stage 1: first wave elimination. For this stage, I chose to let go of books that I either already owned physical copies of, or really had no interest in. It was mainly to free up more space in the cart to accommodate titles I like more or still don't own.
Eliminated 32 books:
The Girl with the Dragon Tattoo | Isle of Blood and Stone | The Education of Margot Sanchez | Everything Leads to You | Not If I Save You First | When We Caught Fire | Suicide Club | Hidden Pieces | After the Shot Drops | Ruin the Stars

The Science of Breakable Things | Grim Lovelies | All of This Is True | Bring Me Their Hearts | Mapping the Bones | Ice Like Fire | The Towering Sky | The Language of Stars | Instructions for a Secondhand Heart | The Art of War

Dear Martin | Blood Rose Rebellion | The Last Star | A Man Named Dave | More Happy Than Not | Soldier | Tash Hearts Tolstoy | The Upside of Unrequited | Leah on the Off Beat | How to Make a Wish | Longbow Girl | The Impossible Knife of Memory
Stage 2: elimination by pile. After collecting my initial haul sans the first ten books I eliminated, it was time to distribute and categorize the books into the following five piles: (1) nope, let these go; (2) no indicated price tag, need to be scanned first; (3) maybe; (4) yes, buy them; and finally, (5) yas, ridiculously good deals you'd be a dummy to ignore. Yes, these are their official names.
I then set aside the books from piles 4 and 5 because I was confident on buying them, and in contrast, I immediately returned the books from pile 1 into bookshelves. This left piles 2 and 3 in limbo. By the way, I think it's worth noting that my nope pile consisted of 32 books!
Eliminated 28 books:
Hello, Universe | I Am Thunder | Soldier | Nyxia | Nyxia Unleashed | Runaways | Smoke and Iron | The Speaker | A Poison Dark and Drowning

Smoke in the Sun | Kiss of the Royal | Song of the Dead | Beasts Made of Night | The Final Six | Akata Warrior | No One Here Is Lonely | Little Fires Everywhere

Legion | The Serpent King | Tash Hearts Tolstoy | Mirage | Internet Famous | The Weight of Feathers | Star-Touched Stories | Fresh Ink | North of Happy | 96 Words for Love
Stage 3: bargaining with the maybes. After scanning the books in pile 2 for their prices, I decided whether to transfer them into the maybe pile for possible switches and trades or to officially let them go.
For this final stage, I basically went through a series of debates with my friend, ranging from "Do I buy both The Reader and The Speaker even though they're in different formats?" (conclusion: no) to "Should I trade Nyxia and Nyxia Unleashed for The Golden Son?" (conclusion: yes).
Amazingly, although I went a little bit overboard with my initial haul by picking up a staggering total of 80 books, I successfully managed to reduce my purchases into a budget-friendly amount! From 80 hauled books, I left the store with 10 great finds, not including the three books from my pasabuy.
FAVORITE FINDS & POORLY TAKEN PHOTOS
While I am immensely happy with all the books I've chosen to purchase (in spite of the protests of my wallet), I won't deny that I have a few favorites among my hauled titles.
I am really not into bookish photography, and believe it or not, I think taking quality photos of books is one of the most difficult aspects of book blogging. Having said all of that, please be gentle and kind to me. My skills are embarrassingly mediocre. I mean, all I did was throw in a crocheted sunflower bookmark for the sole purpose of staying on brand (😂).
I'm not even exaggerating when I say that my heart rate picked up speed upon discovering this beautiful treasure in the chaotic sea of discounted books. Akata Witch has been on my TBR for a really long time, but I've always found the Kindle book price to be too expensive.
I would have instantly purchased its sequel, Akata Warrior, as well if only it was available in paperback format. I know it shouldn't be a huge deal, but I really dislike it when my physical copies of a series aren't consistent in terms of format (someone please tell me I'm not the only one!!!). Nonetheless, I am really happy to have stumbled upon this incredible find. I cannot wait to dive into the world of Akata Witch!
Don't these two books look absolutely perfect together? I could not resist. If I'm being honest, I know next to nothing about The Boneless Mercies, and I shamefully fell prey into the devious hands of cover lust. But I'm a little bit excited to go into this book blind!
Likewise, I eagerly snatched up This Mortal Coil even though I don't really know what it's about. When I saw its beautiful cover, I immediately recalled Kaleena @ Reader Voracious enthusiastically gushing over this book on Twitter — and well, I think we have significantly similar tastes when it comes to SFF so I didn't even hesitate to add it to my cart! From what I've gathered so far, This Mortal Coil has a hacker as a protagonist. I'm crossing my fingers and hoping my reading experience with this book is a whole lot more enjoyable compared to Marie Lu's Warcross dulogy (which, quite frankly, was a huge mess).
During the third stage of my elimination process, I was repeatedly going back and forth between getting The Reader, Mirage or The Epic Crush of Genie Lo. If you saw my book haul tweet, you'd notice that I eventually picked The Epic Crush of Genie Lo. This is mainly because I've already read the other two books (and y'all should, too, because they are wonderful and fascinating!).
The following morning, however, I noticed a discrepancy on my receipt. Despite being marked as 80% off (red stickers = 80% discount!!!), the value in the receipt revealed that the discount was actually lower. I was really upset about this because I already own a Kindle copy of The Epic Crush of Genie Lo and would not have bought the hardcover, had I known that it was only 60% off.
Hence, when Kate invited me to accompany her as she browsed through NBS' selection, I informed the Cubao branch's customer service about the discrepancy. At this point, I feel the need to emphasize the importance of knowing your rights:
Can I just say something? How the customer service and staff handled the problem made it glaringly clear to me that there was a severe lack of coordination and communication happening. I understand that amidst the constant busyness and large crowds of eager buyers, huge book sales are very difficult to manage. I also understand that events like this can be quite draining to working personnel.
However — and this is a huge, bold however — I certainly did not appreciate being told I was the one in the wrong for purchasing an incorrectly marked item. I was given plenty of excuses (e.g. sticker size on my copy was slightly larger in size compared to the other stickers used) and was reprimanded for not scanning the book before buying it — when (1) the problem at hand was about the sticker's color, not size; (2) all other copies of The Epic Crush of Genie Lo were marked with similar red stickers as well; and, (3) whether or not I had the item scanned, it doesn't change the fact that my copy, together with other copies of the same book, were all marked incorrectly, which is not my fault.
Despite this, I was denied a refund and was only allowed to have the copy exchanged for books that total to the same amount I spent for the incorrectly marked copy. Exhausted, I conceded and had the book exchanged for paperbacks of The Reader and Mirage. Although I am happy to have these great books in my possession, it doesn't erase the problem with how the ordeal was handled. I hope that next time, National Bookstore will do better.
FINAL BOOK HAUL
It's time for a bit of arithmetic! How many books was I able to buy? How much did I save from this sale? Well. I got fourteen (14) amazing books all for the price of Php 2,820! Without the discounts, these books would have cost Php 7,132, excluding the additional fees from the pasabuy. That's more or less 60% off in total.
🌻 The Reader by Traci Chee (Php 195)
🌻 Our Dark Duet by Victoria Schwab (Php 91)
🌻 Empress of a Thousand Skies by Rhoda Belleza (Php 99)
🌻 Blood of a Thousand Stars by Rhoda Belleza (Php 159)
🌻 Bright We Burn by Kiersten White (Php 178)
🌻 The Boneless Mercies by April Genevieve Tucholke (Php 210)
🌻 This Mortal Coil by Emily Suvada (Php 198)

🌻 Akata Witch by Nnedi Okorafor (Php 195)
🌻 A Line in the Dark by Malinda Lo (Php 210)
🌻 The Night Diary by Veera Hiranandani (Php 97)
🌻 Mirage by Somaiya Daud (Php 239)
🌻 Jane, Unlimited by Kristin Cashore (Php 214)
🌻 Golden Son by Pierce Brown (Php 259)
🌻 Muse of Nightmares by Laini Taylor (Php 214)

TIPS, TRICKS, & OTHER THINGS I'VE LEARNED
🌻 Bring a friend with you! Preferrably a non-reader one — so that someone can watch over the carts while all the bookworms thoroughly scavenge the area for the best deals. Plus, the likelihood of needing more than one pushcart is quite high, so any extra set of hands will definitely be helpful!

🌻 Don't hesitate to get down and dirty! By that I mean, don't be afraid to sit on a floor to get a better vantage view of the titles on the lower shelves. In all seriousness, at one point, I was sitting cross-legged next to a bookshelf with several growing piles of books surrounding me. Shame? Embarrassment? I don't know her.

🌻 Bring your own canvas or tote bags for your purchases! Aside from the fact that some bookstores charge a small extra for plastic bags, this is definitely the more environmentally conscious thing to do. Save money and help save the environment? What a fantastic deal!

🌻 Know your preferences, priorities, and primary goals! What are you hoping to achieve with an allotted budget of Php 1,000? Are you trying to maximize quantity (i.e. getting the most number of books within the budget limit) or quality (i.e. getting the most number of books you really want within the budget limit)? If you're going for the former, then maybe consider buying more paperback editions, instead of hardcover copies. The price difference might seem small (e.g. around Php 100 to 150), but for every 2 hardcovers you get, you lose the chance of purchasing 3 paperbacks instead.

🌻 Prepare a set of guide questions to help you decide! Some of the questions I asked myself throughout the sale were: Do I like the book cover enough? How likely am I to reread a fantasy over a contemporary? Is this book the first of a series? If yes, will I be able to commit to finishing the series? If the book is part of a series but isn't its first installment, is it feasible to find the earlier books and how much will the other books cost me?

🌻 Create an elimination strategy that works for you! See my elimination process for ideas and/or insight.

🌻 Take your time in narrowing down your haul! Books are an investment, and let's be real here: although we bookworms will never run out of books we want to read, we can (and most likely will) run out of shelf space. Make sure you dedicate your shelf space to books you'll love!


Pin this post on Pinterest!
You can share this post on other social media platforms, too — check out the buttons at the bottom of this post. If you really enjoy my content, maybe consider supporting me with a cup of coffee?
I'd love to hear from you!
🌻 Have you gone to a book sale recently? What were your favorite finds and steals?
🌻 If you found all the books in a series with a hefty discount, would you buy all of them regardless of their formats? Or would a "paperback first book, hardcover sequel" set bother you?
🌻 How do you prevent yourself from exceeding your alloted budget when you go out book shopping?

Twitter: @shutupshealea ‧ Instagram ‧ Pinterest ‧ Goodreads ‧ Bloglovin'