Hi hey hello! I haven't really been blogging in a while (and it sincerely feels like it's been forever), but I am very, very excited to finally announce a little something today: the second blog tour from Caffeine Book Tours… with a bit of a twist. Does that sound intriguing? Well, keep on reading! (Or, you know, keep reading so we can all drool over the unbelievably gorgeous cover together.)
For Kingdom Cold by Brittni Chenelle, I am conducting a creative blog tour! It is my first time doing something like this, so I am both eager and nervous to see how it all turns out (in all seriousness, I hope this doesn't flop). Another exciting thing about Kingdom Cold is that it's a diverse fantasy novel with Asian representation! This is also the perfect opportunity to support self-published authors.
ABOUT THE BOOK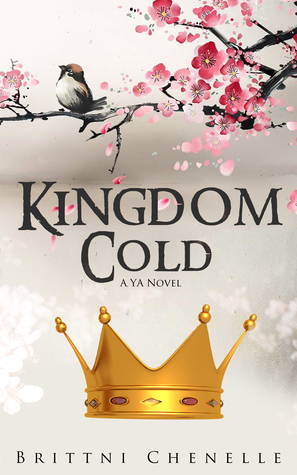 Genre: Young Adult, Fantasy
Diversity tags: Asian and black representation
Publication date: 14 February 2019
Synopsis: Attempted murder, that's how sixteen-year-old Princess Charlotte's engagement starts. It seems like the only thing she has in common with Prince Young of Vires is their mutual discontent.
When her kingdom's attacked, Charlotte's parents renegotiate her hand in marriage to a handsome stranger with a sinister plan. With the people Charlotte loves dying around her, and her kingdom's future at stake, the only person she can turn to is the prince she betrayed. But, should she save her kingdom or her heart?
One must fall.
ABOUT THE AUTHOR
Brittni Chenelle currently lives in Seoul, Korea which inspires her multicultural fantasy books. Her favorite genres to read and write are young adult fantasy, young adult romance, fairytale retellings, and young adult dystopian novels. She's very passionate about equal representation and makes a point to include characters from different backgrounds and cultures in her fantasy stories. Here are five fun facts about Brittni:
She lives in South Korea. It's true. She does most of her updates in the morning or at night to account for the time difference. She also infuses most of her novels with her observations about Korean culture.
She's a Type 1 Diabetic. She uses an insulin pump for survival and refers to her diabetes as "Beetie" which is what inspired her children's book "Life with Beetie". When she wants something from her parents she tells them, "My Beetie hurts." It's a trick that has never failed her.
She doesn't really BELIEVE in fiction. Despite all the; Dragons, Elves, and Magic present in her novel "Involuted the Tale of the Red Ribbon Tree", Brittni INSISTS that it's a true story.
She's OBSESSED with dark chocolate. She made me put that in and would also like me to inform you (on an unrelated note) that her birthday is in May.
Sorry guys, she's married. If you ask her, she'll tell you her husband saved her life but every time someone asks "how?" she gives a different reason. I've overheard her give about 4 different reasons, but I bet she has more. He must be an amazing guy.
ABOUT THE BLOG TOUR
This will be a creative blog tour, which means that participants will not be required to read and review Kingdom Cold within the blog tour proper (although they are more than welcome to do so!). Instead, everyone is encouraged to come up with fun, creative content! This can range from creative feature posts to cover-inspired moodboards to custom digital art.
For creative content, "raw" materials will be provided, which participants can use as a guide in creating their posts. However, for bloggers who prefer more promotional content, author interviews and featured excerpts are available as options as well. Either way, all selected blog tour participants will receive complimentary copies of the book as a small thanks for joining.
As a blogger based in the Philippines, the tour will follow my country's time zone (UTC+08:00), but that shouldn't stop you from signing up! Asian and black readers are highly encouraged to participate, but the tour is open to all, especially international book bloggers! It will run from the 25th to the 29th of March.
Sign-ups will close by the end of the week, and official participants will receive e-copies of the book, together with the necessary tour materials, a day or two days after.

Twitter: @shutupshealea ‧ Pinterest ‧ Goodreads ‧ Bloglovin'