Keeping this news hush hush — well, almost hush hush (of course, I had to tell a few close blogger friends to keep myself from exploding) — was one of the most difficult things I've ever done as a book blogger. It comes as no surprise that Spin the Dawn by Elizabeth Lim is one of my most highly anticipated releases this year, and the moment this incredible opportunity dropped onto my lap, I wanted to scream about it into the world. But I digress, and I think I'm getting way ahead of myself.
With the unceasing support from the author (seriously, Elizabeth, you are a rockstar) and the much coveted blessing from the publisher, I am extremely humbled and honored to announce that I am organizing an international blog tour for Spin the Dawn! YAAAAS!
In fact, Spin the Dawn is just one of the many upcoming Asian titles that will be hosted and featured by Caffeine Book Tours this year. If you're interested in being the first to receive blog tour invitations, then I highly encourage you to sign up as an official coffee bean (yes, official tour hosts of Caffeine Book Tours are called coffee beans, and the name is just really cute, okay).
In case you missed it, I dropped a little bomb on Twitter recently where I named a few of the many blog tours I will be organizing for this year! Be a dear, spread the word, and let me know if you're as excited as I am, okay?
ABOUT THE BOOK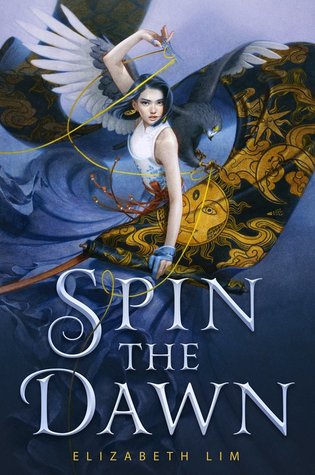 Genre: Young Adult, Fantasy
Diversity tags: Asian author (Chinese American), POC representation (Chinese), #ownvoices
Publication date: 09 July 2019
Publisher: Knopf Books for Young Readers
Synopsis: Project Runway meets Mulan in this sweeping YA fantasy about a young girl who poses as a boy to compete for the role of imperial tailor and embarks on an impossible journey to sew three magic dresses, from the sun, the moon, and the stars.
Maia Tamarin dreams of becoming the greatest tailor in the land, but as a girl, the best she can hope for is to marry well. When a royal messenger summons her ailing father, once a tailor of renown, to court, Maia poses as a boy and takes his place. She knows her life is forfeit if her secret is discovered, but she'll take that risk to achieve her dream and save her family from ruin. There's just one catch: Maia is one of twelve tailors vying for the job.
Backstabbing and lies run rampant as the tailors compete in challenges to prove their artistry and skill. Maia's task is further complicated when she draws the attention of the court magician, Edan, whose piercing eyes seem to see straight through her disguise.
ABOUT THE AUTHOR
Elizabeth Lim grew up on a hearty staple of fairy tales, myths, and songs. Her passion for storytelling began around age 10, when she started writing fanfics for Sailor Moon, Sweet Valley, and Star Wars, and posted them online to discover, "Wow, people actually read my stuff. And that's kinda cool!" But after one of her teachers told her she had "too much voice" in her essays, Elizabeth took a break from creative writing to focus on not flunking English.
Over the years, Elizabeth became a film and video game composer, and even went so far as to get a doctorate in music composition. But she always missed writing, and turned to penning stories when she needed a breather from grad school. One day, she decided to write and finish a novel — for kicks, at first, then things became serious — and she hasn't looked back since.
Elizabeth loves classic film scores, books with a good romance, food (she currently has a soft spot for arepas and Ethiopian food), the color turquoise, overcast skies, English muffins, cycling, and baking. She lives in New York City with her husband.
ABOUT THE BLOG TOUR
The official hashtag for this blog tour is #SpinTheDawnTour, and it will run from July 1st to July 6th. Because I am based in the Philippines, it will follow my country's time zone (UTC+08:00).
This is a promotional, international blog tour that accommodates all book bloggers. In fact, although a few slots are reserved for US-based book bloggers, there are more reserved slots for bloggers outside of the United States. Likewise, Asian (#ownvoices and non-#ownvoices) readers are also highly encouraged to participate. (However, it should be noted that the slots for this blog tour are limited, and filling out the form does not guarantee anyone a slot.)
Sign-ups will close after a week or so, and selected participants will be contacted via email a few days after. All official tour hosts will receive review copies of Spin the Dawn and will be expected to post a review for the blog tour. Although this is a review-required tour, you are more than welcome to add other creative or promotional content of your preference.
This promotional blog tour is in cooperation with Knopf Books (massive thanks to the publisher for agreeing to work with me!). Hence, review copies will be distributed via NetGalley. This means that you need to have a NetGalley account in order to participate.
For other concerns or inquiries, you are more than welcome to leave a comment!

(Image not working? Click here to sign up.)


Twitter: @shutupshealea ‧ Instagram ‧ Pinterest ‧ Goodreads ‧ Bloglovin'