Let me preface this with a huge, huge apology. The delay in releasing the monthly link-up post (i.e. there was no post for July) was intentional, but on behalf of the YARC team, I am sorry for taking so long to explain the reason behind this delay. Oof.
But I digress. My (amazing) co-hosts and I were trying to whip up a massive, international midyear giveaway as a humble token of appreciation for all the lovely participants of this year's YARC. This ambitious endeavor turned out to be a little bit more complicated and time-consuming than we anticipated, especially because we were all absolutely committed in ensuring that our giveaway is open to international readers.
I'm very happy to announce that, despite the long, grueling process we faced, we were able to partner up with Pushkin Press to make this (really late) midyear giveaway possible! Thank you very much to the wonderful people from the Pushkin Press team for generously sponsoring books for the giveaway!
With all that said, if you are a current participant in our fun reading challenge, then read on to learn about the midyear giveaway's mechanics! You can also use this post to share all the Asian books you read for the months of July and August, find out the prompts we have for August and September, and check out our book recommendations (that just might help you with those prompts).
On the other hand, if this is your first time to hear about YARC 2019, then read on anyway and learn how you can join in on all the fun!
WHAT IS YARC 2019?
YARC 2019, otherwise known as the Year of the Asian Reading Challenge 2019, is a year-long reading challenge that encourages you to read as many books written by Asian authors as you can! These books can be backlist titles (i.e. released in 2018 or earlier), new releases, and even ARCs. Any genre, any format, and any length.
Does that sound fun? Well, you can join in at any time within the year. Sign up by filling out this form and find all the relevant links for this challenge on this page.
CHALLENGE PROMPTS
JULY: MAGIC
For the month of July, we're going on a fun, magical route! From high fantasy to magical realism, pick up a book with a figurative — or literal — magic touch (excuse the terrible pun).
AUGUST: TRADITION
Asian cultures are deeply traditional in the most wonderful sense! Tradition is also incredibly, profoundly important within Asian families. Having said that, read a book that explores tradition in its many forms — whether it's breaking tradition or following or establishing new ones.
SEPTEMBER: MENTAL HEALTH
In line with Mental Health Awareness month, read a book that features both Asian protagonists and promotes mental health awareness.
FEATURED BOOKS FOR JULY
For more Asian books that fit July's challenge prompt, you can check out this wonderful list of recommendations prepared by Lily of Sprinkles of Dreams.
FEATURED BOOKS FOR AUGUST
If you're having a tough time with the prompt for this month, don't worry! We've picked out amazing books that fit the bill. Here are three incredible books from Asian authors! Check them out, and don't forget to add them to your TBR:
For more Asian books that fit this month's challenge prompt, you can check out this wonderful list of recommendations prepared by Vicky of Vicky Who Reads.
(LATE) MIDYEAR GIVEAWAY
We are more than halfway through the first-ever Year of the Asian Challenge, and we cannot be more grateful for everyone's support and enthusiastic participation! To celebrate this momentous milestone, we've partnered up with Pushkin Press and we're giving away three (3) of their Asian titles to three (3) very lucky international winners!
To enter the giveaway, you must (1) retweet this tweet, (2) follow YARC (@YearOfTheAsian) and Pushkin Press (@PushkinPress) on Twitter, and (3) tell us where you're from (i.e. country) and which book you'd like to win. You have until September 15th to enter, and the winners will be randomly drawn shortly after and contacted via Twitter.
If you'd like to statistically increase your chance of winning — well, here's some good news! Every link that you submit for the July-to-August reads counts as a bonus entry (+1). This means that the more Asian books you read in August, the higher your chances of winning one of these amazing titles from Pushkin Press: One Part Woman by Perumal Murugan, Number One Chinese Restaurant by Lillian Li, and Salad Anniversary by Machi Tawara.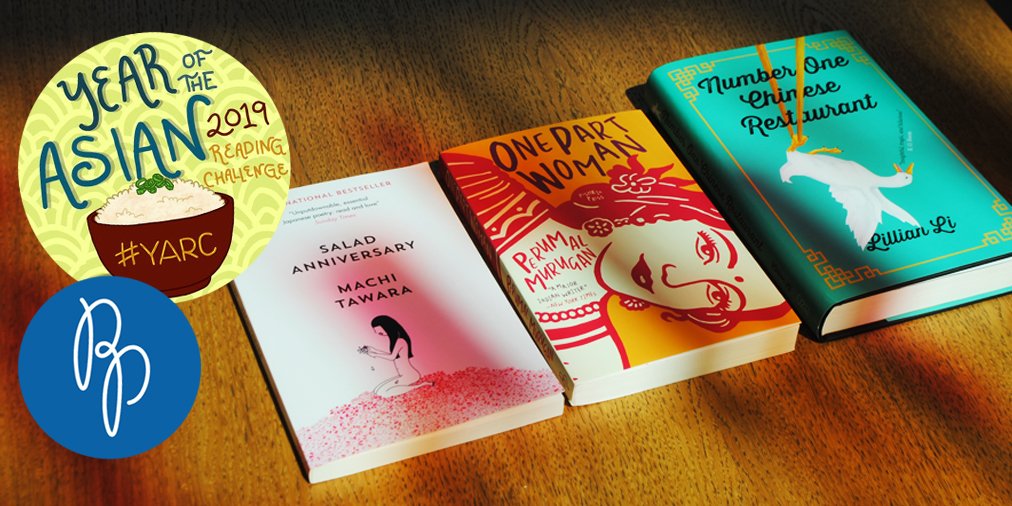 One Part Woman
by Perumal Murugan
All of Kali and Ponna's efforts to conceive a child—from prayers to penance, potions to pilgrimages—have been in vain. Despite being in a loving and sexually satisfying relationship, they are relentlessly hounded by the taunts and insinuations of the people around them. Ultimately, all their hopes and apprehensions come to converge on the chariot festival in the temple of the half-female god Ardhanareeswara and the revelry surrounding it. Everything hinges on the one night when rules are relaxed and consensual union between any man and woman is sanctioned. This night could end the couple's suffering and humiliation. But it will also put their marriage to the ultimate test. Acutely observed, One Part Woman lays bare with unsparing clarity a relationship caught between the dictates of social convention and the tug of personal anxieties, vividly conjuring an intimate and unsettling portrait of marriage, love and sex.
Number One Chinese Restaurant
by Lillian Li
The popular Beijing Duck House in Rockville, Maryland has been serving devoted regulars for decades, but behind the staff's professional smiles simmer tensions, heartaches and grudges from decades of bustling restaurant life.

Owner Jimmy Han has ambitions for a new high-end fusion place, hoping to eclipse his late father's homely establishment. Jimmy's older brother, Johnny, is more concerned with restoring the dignity of the family name than his faltering relationship with his own teenage daughter, Annie. Nan and Ah-Jack, longtime Duck House employees, yearn to turn their thirty-year friendship into something more, while Nan's son, Pat, struggles to stay out of trouble. When disaster strikes and Pat and Annie find themselves in a dangerous game that means tragedy for the Duck House, their families must finally confront the conflicts and loyalties simmering beneath the red and gold lanterns.
Salad Anniversary
by Machi Tawara
Machi Tawara's first book of poems, Salad Annivsersary, combines the classical 'tanka' form with the subject of a modern love affair. It became a sensation, selling over 2 million copies – and the 'salad phenomenon' in Japanese culture was comparable to the 'bananamania' that followed publication of the first novel by Tawara's contemporary Banana Yoshimoto.

In her collection of brief poems, Tawara explores the fleeting emotions and momentary experiences that comprise modern life and love.
JULY & AUGUST LINK-UPS
JULY & AUGUST LINK-UP FORM
This link-up form will close on September 15.
For the link-up, you can submit either your updated progress tracker (e.g. blog post, Goodreads shelf, Twitter thread) or your review of an Asian book that you read in July or August (note: the review can be from any platform, e.g. your blog, Twitter, Goodreads).
Every link you submit is counted as an entry for the mysterious grand giveaway, which will be drawn once the year ends, AND the midyear giveaway, which will be drawn after September 15th.
I'd love to hear from you!
🌻 How is your challenge progress going? Are you still on track with your reading goal?
🌻 Did you discover a new favorite among the Asian books that you read for this month?
🌻 Are any of our featured books already under your radar? Which one are you most excited about?

Twitter: @shutupshealea ‧ Instagram ‧ Pinterest ‧ Goodreads ‧ Bloglovin'