Shealea, didn't you just release a sign-up form for another blog tour a few days ago? Why yes. Yes, I did. And you can still sign up to read and review The Never Tilting World by Rin Chupeco. But okay, hear me out!
If you've known me or been following me for quite a while, then you may know that, despite the abundance of impulsive passion projects that I tend to do like all the time, I am also quite the planner. My lineup of blog tours had been — more or less — set in stone since the start of this year (although some blog tours, like the one for Fonda Lee's Jade War, just somehow magically fell into my lap and I couldn't be more grateful to the generous publishers for entrusting me with the responsibility of promoting their books).
But I digress. One of the first blog tours I set out to secure was for The Dragon Warrior by Katie Zhao. If my memory serves me right, I pitched the idea of an international blog tour in the middle of our conversation about my blog hosting the cover reveal for this Chinese-inspired middle grade debut (another huge honor I'm infinitely thankful for!). Which means that I've had this sign-up post drafted for about eight (8) months now. Let that sink in. Eight months of withholding the details about this tour and suppressing the full extent of my excitement! Eight long months of keeping most of y'all in the dark of what was going on behind the scenes.
Friends, at this point, I honestly feel like I'm bursting at the seams. And I just can't rein it in any longer. So, with an immense amount of sweet relief and unadulterated joy on my part, I am finally declaring the sign-ups for The Dragon Warrior blog tour open!
If you're interested in being the first to learn about blog tour announcements, then I highly encourage you to sign up as an official coffee bean, which comes with the perk of being the recipient of email invitations to events organized by Caffeine Book Tours!
ABOUT THE BOOK
Genre: middle grade, fantasy

Diversity tags: authors of color (asian authors), #ownvoices, poc representation (chinese)
Publication date: 15 October 2019

* Add this book on goodreads

Synopsis: As a member of the Jade Society, twelve-year-old Faryn Liu dreams of honoring her family and the gods by becoming a warrior. But the Society has shunned Faryn and her brother Alex ever since their father disappeared years ago, forcing them to train in secret.
Then, during an errand into San Francisco, Faryn stumbles into a battle with a demon–and helps defeat it. She just might be the fabled Heaven Breaker, a powerful warrior meant to work for the all-mighty deity, the Jade Emperor, by commanding an army of dragons to defeat the demons. That is, if she can prove her worth and find the island of the immortals before the Lunar New Year.
With Alex and other unlikely allies at her side, Faryn sets off on a daring quest across Chinatowns. But becoming the Heaven Breaker will require more sacrifices than she first realized . . . What will Faryn be willing to give up to claim her destiny?
Inspired by Chinese mythology, this richly woven contemporary middle-grade fantasy, full of humor, magic, and heart, will appeal to readers who love Roshani Chokshi and Sayantani DasGupta.
ABOUT THE AUTHOR
Katie Zhao is a 2017 graduate of the University of Michigan with a B.A. in English and Political Science, and a 2018 Masters of Accounting at the same university. She is the author of Chinese #ownvoices middle grade fantasy The Dragon Warrior (Bloomsbury Kids, October 2019 & 2020), as well as a young adult author. She is a mentor for Author Mentor Match. She is currently open to freelance editorial services for young adult and middle grade manuscripts.
ABOUT THE BLOG TOUR
The official hashtag for this blog tour is #DragonWarriorTour, and it will run from October 7th to October 12th — with a spoiler-free Twitter chat as its culminating activity. Because I am based in the Philippines, the tour will follow my country's time zone (UTC+08:00).
This is an international, promotional blog tour that accommodates all book bloggers, regardless of where they are located (be it inside or outside of the United States). Priority will be given to Asian bloggers, especially Filipinos, Chinese, and Chinese-Americans. However, it should be noted that the slots for this blog tour are limited, and filling out the form does not guarantee anyone a slot.
Sign-ups will close on September 3rd, and the selected participants will be contacted via email a few days after. All official tour hosts will receive review copies of The Dragon Warrior and will be expected to post a review for the blog tour. Although this is a review-required tour, you are more than welcome to add other creative or promotional content of your preference.
This promotional blog tour is in cooperation with Bloomsbury Kids (massive thanks to the publisher for working with me!). Hence, review copies will be distributed via NetGalley. This means that you need to have a NetGalley account in order to participate. However, physical review copies are available upon request for participants residing in the Philippines and in the United States.
For other concerns or inquiries, you are more than welcome to leave a comment!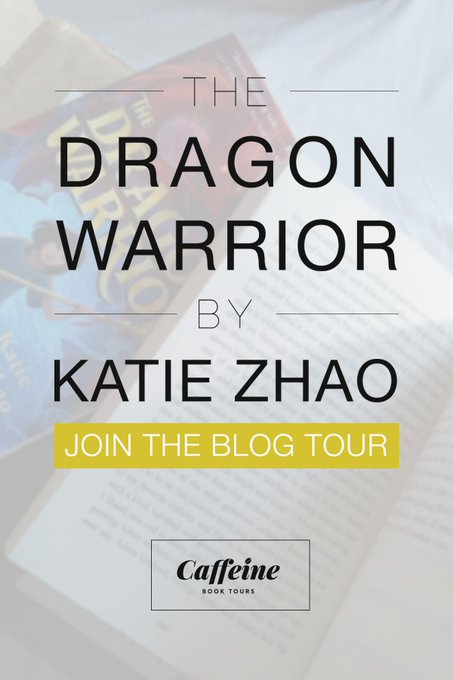 (Image not working? Click here to sign up.)


Twitter: @shutupshealea ‧ Instagram ‧ Pinterest ‧ Goodreads ‧ Bloglovin'